When we're kids the world seems big and indestructible.

As we grow up it becomes smaller and smaller.

Changes come, some for the better and some not.

The sad part is that some of these changes are basically inevitable and all you can do is watch as it happens.
Over the last few years I wrote a series of articles for Cape Cod Life dealing with the changes on the Cape and Islands due to erosion and shoreline change.

In my lifetime I have witnessed the breaks in Chatham's North Beach and then South Beach, several breaches at Norton Point on Martha's Vineyard, the moving of three lighthouses, the loss of several sets of stairs at Nauset Light Beach, the decimation of the former Marconi Site, the gaping hole in Ballston Beach, the collapse of the parking lot at Herring Cove Beach, the repeated stripping of sand from Town Neck Beach, and last summer's sinkhole at the Beachcomber just off the top of my head.
However nothing could prepare me for what I saw last weekend as I watched one of my favorite places on Cape Cod be forever changed.
It was a strange kind of sadness as a powerful Nor'easter shredded through the picturesque dunes of Nauset Beach.

I am sure that all of you reading this have places that have been special to you as you grew up.

Whether you lived on Cape Cod like me, or anywhere in the world, the places you enjoy as a child stay with you and can take you back to those simpler times whenever you see them again.
For those who may not be familiar with it, Nauset Beach lies on the Atlantic Ocean side of Cape Cod in the town of Orleans.

It has been known for its expanse of pristine sand, surfing, and off-road trails for decades.

There are 559.6 miles of Cape Cod coastline and this stretch of beach is mentioned with the best on the Cape including Sandy Neck, Race Point, Craigville, and others.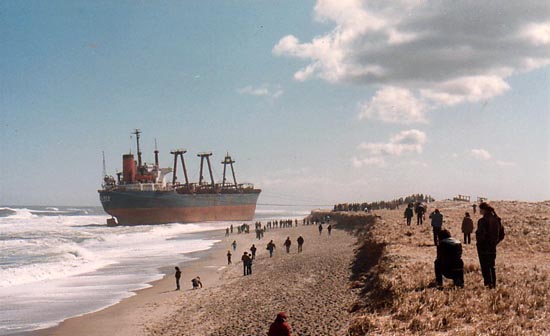 The Eldia on Nauset Beach in 1984 (WreckHunter.net)
My first memory of Nauset Beach goes back to March 29, 1984 when a 471-foot freighter named the Eldia was stranded just offshore during a powerful Nor'easter.

It became a huge tourist attraction for early spring on the Cape.

People came from all over to gaze at the mammoth steel beast wedged neatly in the sand.

I was 6-years-old and was brought there by my mother Laurie, my stepfather Paul, my 4-year-old sister Kate, and my baby brother Matt.

The Greek-owned ship remained marooned for nearly two months before being pulled free and ultimately scrapped.

The sight of the gigantic red and blue ship towering over me was matched only by the enormity of the beach itself which stretched out into infinity, or so I thought then.
As a child trips to Nauset were rare since it was a 30 minute drive from my home to get there.

Ironically I visited Nauset more often when a large storm would be hitting Cape Cod, to see the big waves that are common on the ocean side.

According to the Massachusetts Coastal Zone Management the average erosion rate along Nauset Beach is just under 5-feet per year.

This meant that all of those exciting storms were slowly removing the very beach I loved visiting.
In 2011 I was lucky enough to get my first book deal.

It would be a book featuring the sites and history of Cape Cod, an opportunity to showcase my home to the world.

Which place on the Cape did I choose to grace the cover of that book? Why that would be Nauset Beach.

A majestic shot of the fence-lined walkway at the southern end of the parking lot leading over the dunes was in my opinion the perfect way to invite readers to pick up my book.

I wanted each and every person who saw that photo to go and experience the awe-inspiring beauty of Nauset Beach.

Sadly after a pair of huge winter storms, one in January and the other last weekend, the landscape from the book cover has become a memory.
I have never seen anything like what I saw at Nauset Beach March 4th.

With the direct route to the beach partially blocked by cautionary sawhorses I chose to enter via Pochet Neck.

The dirt parking lot is a favorite spot, with a bridge leading over a marsh which empties into Pleasant Bay.

It is usually an easy walk across the bridge, passing over the ORV trail, and up the dunes for a beautiful view of the beach nearly a half-mile south of the main Nauset parking lot.
At high tide the creek, usually about thirty-feet wide in most areas, took on the look of a lake, encompassing all of the marsh.

One after another giant waves could be seen crashing on the shore of the beach nearly 1,000-feet away.

The water spilled into the marsh, coming over the dunes from all directions and turning the ORV trail into a two-foot deep rushing river.
Partially on the instinct of wanting to get a closer look, and partially in a stunned shock I walked along the sand finding higher ground to take photos.

However, when a barrage of waves caused a rush of water to momentarily surround my perch I decided that discretion was the better part of valor and I returned to my car while the bridge was still passable.
There were a few dozen people taking in the surge at the main parking lot.

Sadly it was here that I got a better grasp of the damage. It was a shocking sight to see as at times when the waves crashed there literally was no beach between the ocean and dunes.

The scene which I had photographed for the cover of my first book had been totally destroyed, no more fence, no more grass, no more benches.

In fact it now resembled a sand castle which had been slowly disintegrated by the sea.
The changes are apparent (Facebook, Orleans Nauset Beach)
It was a strange sadness, a feeling of helplessness as I, and countless others, watched a beloved Cape Cod landmark slowly be stripped away.

Estimates have it that the storm in January cost Nauset Beach 25-feet of shoreline, while last weekend's storm took another 35-feet.

The area experienced roughly twenty years of erosion in six weeks.

Who knows what this means for the beach itself.

The gazebo which once provided a wonderful viewing area of the crashing waves has had to be carefully moved as it was perilously close to toppling over into the sand.

Then there's Liam's At Nauset Beach, the venerable snack shack which has been supplying copious amounts of onion rings and other fried summer favorites to visitors and locals alike for twenty-eight years.

After the massive loss of sand it is highly likely that the building, already being undermined by the erosion, will have to be torn down.
Just as the famed Blizzard of '78 irreparably changed the face of Coast Guard Beach in Eastham these pair of Nor'easters have done to same to the beloved Nauset Beach.

It is a shocking and sad turn of events, and as someone who was born and raised here it is almost like experiencing the loss of a loved one.

Change is inevitable especially when it comes to our shoreline on Cape Cod.

In addition to attempting to armor up the remaining coast, replenishing sand where possible, and retreating from the erosion where necessary there is one very important thing we who live and visit here can do.

Enjoy every moment while we have them, because things might change very slowly, or as we have seen two swift punches by Mother Nature can completely obliterate an iconic landmark.